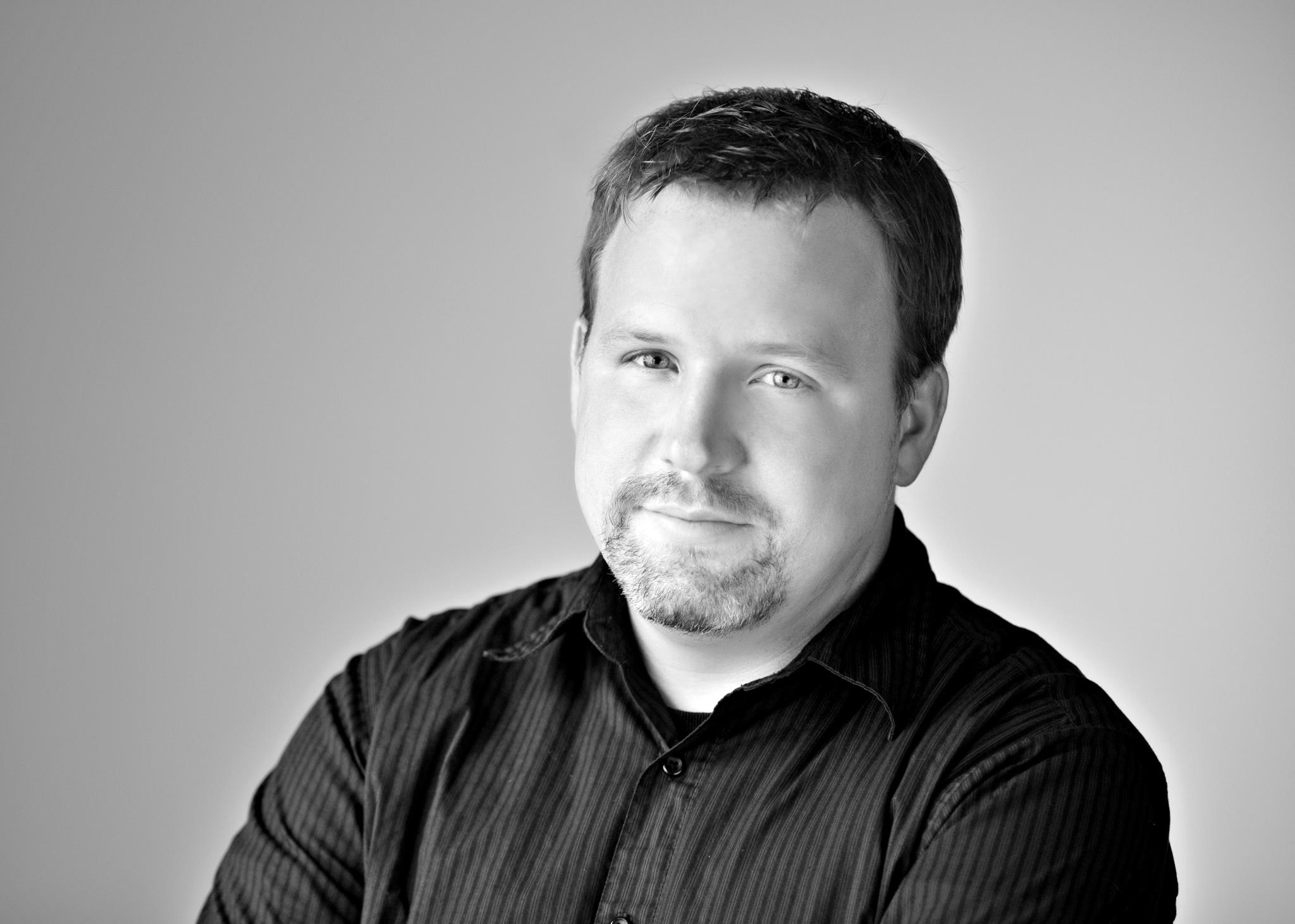 Biography
Craig Fitzpatrick holds a Bachelor of Music degree in composition from Bradley University in Peoria, Illinois, where he studied composition with Stephen Heinemann. He obtained his Masters in Music Composition in 2003 from the University of Illinois in Champaign. While there, he studied composition under Stephen Taylor and Rick Taube and also served as a teaching assistant, instructing undergraduate theory and ear-training courses. Since then Craig has had the opportunity to work closely with Jack Stamp, David Maslanka, and David Holsinger.
In 2001, Craig won the Creative Division of the Bradley University Research and Creative Achievement Exhibition with Subliminal Designs, a composition designed using music notation through alternative visual representations. Craig was also a finalist in the ASCAP Foundation Morton Gould Young Composer Awards in 2001 and 2003. In 2005, he was chosen as a participant in the National Band Association's Young Composer Mentor Project sponsored Bands of America. Craig was also a finalist in the 2nd International Frank Ticheli Composition Contest with his work "Re-Connected" for wind ensemble.  In 2014, Craig's commission "A Light Still Remains" was a finalist in the National Band Association's Merrill Jones Composition Contest for Concert Band.  Craig has been commissioned to write concert band literature for various Midwest Jr. High and High Schools. His compositions for band, orchestra, choir, soloists, and small ensembles have been performed across the country. Craig is also a published composer with Alfred, TRN, and FJH Music Publishers.
Since 2001, Craig has arranged music and written drill for competitive high school marching bands across the country. His clients are regular State Class Champions, Band of America (BOA) Super Regional Finalists, BOA Grand National Semi-Finalists, and BOA Super Regional Class Champions. Additionally, Craig has served as a marching band adjudicator throughout the Midwest. Craig marched with the Cavaliers Drum and Bugle Corps baritone line in 1998 and worked with the Cavaliers brass staff in 2001. He has taught competitive marching brass and arranged for Morton High School, who have been named the 2005 through 2017 class 2A Illinois State Champions. Craig also maintains an extensive private brass studio, teaching trumpet, French horn, trombone, euphonium, and tuba lessons to students of all ages. His students regularly attend the IMEA district and state festivals in the orchestral, jazz, and band divisions. During the 2005-06 school year, Craig served as assistant director of bands at Washington Community High School. During this time, the Washington High School Symphonic winds were selected to compete at the 2006 Illinois Superstate Concert Band Festival for the first time.
Craig studied trombone with Hugo Magliocco at Bradley University and Elliot Chasanov at the University of Illinois. He currently performs with the Prairie Wind Ensemble, and resides in Morton, Illinois with his wife, Katrina.
---
Resumé
Education
MASTERS IN MUSIC COMPOSITION GPA: 4.0
University of Illinois at Urbana-Champaign (2001- 2003)
Dr. Stephen Taylor, Composition Instructor
Dr. Rick Taube, Composition Instructor
Dr. Elliot Chasanov, Trombone Instructor
BACHELOR OF MUSIC IN COMPOSITION GPA: 3.97
Bradley University, Peoria, IL (1997- 2001)
Dr. Stephen Heinemann, Composition Instructor
Dr. Hugo Magliocco, Trombone Instructor
Work Experience
ASSISTANT DIRECTOR OF BANDS (2005- 2006)
Washington Community High School, Washington, IL

Instructed high school concert bands, marching band, pep bands
INTERIM ASSISTANT BAND DIRECTOR (2004- 2005)
Washington Community High School, Washington, IL

Worked with all high school concert bands
AFFILIATE INSTRUCTOR OF MUSIC
Bradley University, Peoria, IL (2004- 2009)

Instructed sections undergraduate music theory and ear-training
CENTRAL ILLINOIS YOUTH SYMPHONY BRASS ENSEMBLE DIRECTOR
Morton, IL (2006 – 2008)

Instructed and directs the brass ensemble
MUSIC COMMISSIONS
Wrote original concert band and orchestra compositions

Dunlap High School , IL (2012)
Fox Valley Concert Band, IL (2008)
Johnston Community School District, IA (2006)
Morton Jr. High School, IL (2004, 2005, 2010, 2011, 2013, 2014, 2017)
Morton High School, IL (2004, 2012)
Oaklawn Homewood Middle School, IL (2006)
The Prairie Wind Ensemble, IL (2006. 2007, 2010, 2013)
Washington Community High School, IL (2002, 2014)
Western State Colorado University, CO (2015)
PRIVATE BRASS STUDIO INSTRUCTOR
Self Run Studio, Morton, IL (2002- present)
Kidder Music Service, Peoria, IL (1998- 2001)

Taught trombone, baritone, trumpet, and tuba lessons to students of all ages
MARCHING BAND BRASS INSTUCTOR
Morton High School, Morton, IL (2001- present)
Metamora Township High School, Metamora, IL (1999- 2002)
Washington Community High School, Washington, IL (1999- 2000)

Led brass sectionals
Assisted in full-band rehearsals
MUSIC ARRANGER
Allegany, MD
Alma High School, AR
Apollo High School, KY
Audry Kell, NC
Audubon High School, NJ
Baldwin-Woodville High School, WI
Basic High School, NV
Beech Grove High School, IN
Berryville High School, AR
Blue Springs High School, MO
Brother Rice, IL
Buchanan, CA
Carl Sandburg High School, IL
Chapin High School, TX
Chesnee, SC
Clio, MI
Croatan High School, NC
Cuero, TX
Cypress Ridge, TX
Danville High School, IL
Danville High School, IN
Davies County, KY
Denton, TX
Derby, KS
Dunlap High School, IL
Dwight D. Eisenhower, IL
East Carteret High School, NC
East Lincoln High School, SC
East Peoria High School, IL
Edwardsville High School, IL
E.C. Glass, VA
Elizabeth High School, CO
Elkhord, NE
Englewood High School, CO
Eureka High School, IL
Farmington High School, IL
First Assembly Christian School, TN
Forte Drum and Bugle Corps, TX
Geneseo High School, IL
Governor Livingston, NJ
Governor Mifflin, PA
Granite City, IL
Greendale High School, WI
Green Mountain High School, CO
Gull Lake High School, MI
Halls High School, TN
Havelock, NC
Henderson County High School, KY
Henry Clay High School, KY
Hickory Ridge High School, NC
Hopkins High School, KY
Huntingdon, TN
Independance, CA
John F. Kennedy, CA
Joliet West, IL
King High School, TX
Lee's Summit North, MO
Limestone High School, IL
LincolnWay West High School, IL
LoveJoy High School, TX
Madison, IN
Magnolia High School, LA
Maize South, KS
Manvel, TX
Mater Dei High School, IL
Mead High School, WA
Melbourne, FL
Metamora Township High School, IL
Millard North, NE
Millard South, NE
Millard West, NE
Millbrook High School, NC
Milton, GA
Monache High School, CA
Monarch High School, CO
Monte Vista High School, CA
Monticello High School, IL
Montrose High School, CO
Morris, IL
Morton High School, IL
Musselman High School, WV
New Castle, IN
New Providence, NJ
Newton, IL
Normal Community, IL
North Augusta, NC
North Kitsap, WA
Northhampton Area High School, PA
North Oldham High School, KY
Oskaloosa, IA
Palmetto Ridge, FL
Paris, IL
Pekin High School, IL
Plainfield Central, IL
Poplar Bluff, MO
Poteet, TX
Progresso, TX
Prairie Central High School, IL
Providence Catholic, IL
Red Deer Royals, Canada
Riverside High School, TN
Robert E. Fitch, WV
Robinson High School, IL
Rock Hill, SC
Rockbridge High School, MO
Sioux City East High School, IA
Skiatook High School, OK
South Paulding, GA
South Walton, FL
Southeast Guilford, NC
Spoto High School, FL
Sullivan High School, IL
Sumral, MS
Swansea High School, SC
Texas City, TX
Thibedeaux, LA
Truman High School, MO
United Township, IL
Volcano Vista High School, NM
Volunteer, TN
Warhill, VA
Waseca High School, MN
Washington, MO
Washington Community High School, IL
Waukesha North High School, WI
West Carteret High School, NC
West Craven, NC
West Orange High School, FL
West Stokes, NC
Westside, NE
Westview High School, CA
Windsor High School, CO
Arranged and composed music for competitive marching band
MARCHING DRILL DESIGNER
Beech Grove, IN
Cypress Ridge, TX
Dunlap High School, IL
East Peoria, IL
Effingham High School, IL
Limestone High School, IL
McAllen Memorial High School, TX
Mead High School, Spokane, WA
Metamora Township High School, IL
Monticello High School, IL
Morton High School, IL
Normal Community High School, IL
Plainfield Central High School, IL
Plainfield North High School, IL
Prairie Central High School, IL
Salem High School, IL
Streator High School, IL
Texas City High School, TX
United Township High School, IL
West Orange High School, FL
Designed drill for competitive marching band
PROFESSIONAL TROMBONIST
Prairie Wind Ensemble, East Peoria, IL (2005- present)
Peoria Municipal Band, Peoria, IL (1999- present)
Opera Illinois Pit Orchestra, Peoria, IL (2000- present)
Peoria Players Theater Pit, Peoria, IL (1999)
---
 Testimonials
The music of Craig Fitzpatrick is a delightful blend of creative textures, well crafted development and expert orchestration. He demonstrates a marvelous ability to create a wide variety of expressive settings for ensembles of all levels of playing experience, from young players to the most advanced performers.
Robert Sheldon
Composer and Music Editor for Alfred Music Publishing
Craig is one of the fastest rising stars in the composition/arranging field. His music is fresh, innovative and very memorable by audiences and performers alike. What set Craig apart for me was his willingness to not only custom write for my group, but his follow-through in revisions until we were satisfied with every last detail. Many arrangers may get the product to you, but getting anything else out of them once "version" one is in hand is near impossible. We were thrilled to perform Craig's arrangements in the 2004 Hollywood Christmas Parade and the 2005 Macy's Thanksgiving Day Parade. This past year, we hired Craig to write our entire competitive show. His music received rave reviews from adjudicators. As with any custom arrangements, changes needed to be made to match what was going on with the drill. Not only did Craig get the revisions done, but he got them completed within 2 days…and with a great attitude and willing heart. This is a very rare personality trait in the arranging world. Craig is a class act, the real deal and is at the top of his game.
Dr. Tim Allshouse
Director of Bands, Blue Springs High School
Blue Springs, MO
The music of Craig Fitzpatrick is creative, colorful and is scored to allow success in a competitive marching band setting. Judges have always been very complimentary of the pacing and innovative programing of our music book. Craig's music has variety that creates instant effect and is written with emotional impacts that easily lends to an effective visual program as well. The drill of Craig Fitzpatrick consistently sets our students up for a successful marching band show. It is musical, yet designed to allow students the opportunity to achieve visually at a very high level. Craig incorporates all of the current marching band trends such as guard and percussion integration and effective transitions for visual appeal. More importantly, his focus on wind placement sets our students up to sound great while maintaining visual interest. I can highly recommend using Craig for your marching band design needs.

The success of our marching program has grown tremendously as a direct impact of the designs of Craig Fitzpatrick! I can highly recommend his music to ensembles that are looking to improve their design or take their show to the next level. 5 time consecutive ISSMA State Finalists with Craig Fitzpatrick Music.
Cory Wynn
Director of Bands, Beech Grove High School
Beech Grove Indiana
Craig Fitzpatrick is currently completing his 13th show for the Morton High School Marching Band. Each year his ability to create a complete musical production that is carefully designed and brilliantly connected from start to finish amazes me. The design is seamless. His shows have been a key to our continued growth as a program and have helped us to earn 9 straight Illinois Class 2A State Championships, a Bands of America Super Regionals Class AA Championship, and a Bands of America Grand Nationals Semifinals performance. Craig's compositional training and experience as a member of the Cavaliers Drum and Bugle Corps are vital to his work. His sensitivity to the interweaving elements of sound, motion, and visual effect paired with an unmatched skill for painting with all the musical colors of the woodwinds, brass, and percussion put his show designs at the top of the field. His rich harmonic textures and inventive use of melody have also led us to commission five original concert works for the high school bands, and six original compositions for the middle school bands. His range as a composer has no boundaries!
Jeff Neavor
Director of Bands, Morton High School
Morton, IL
Craig knows what he's doing when it comes to marching band arranging. Teaching a smaller ensemble, Craig's music has always helped our ensemble showcase our strengths and sound full. The pacing of his music has been loved by all our judges. Having worked with him on an original show, he's very easy to work with, open to your ideas, and very flexible. He wants you to be happy with the product and he wants your band to be successful. I have used Craig's shows for 3 years and plan on using him for the rest of my career!
Amanda Buchholz
Director of Bands, North Oldham High School
Goshen, KY
Craig Fitzpatrick's marching band arrangements have taken our program to a new level. In addition to his outstanding composing and arranging skills, he is also the consummate professional when communicating with directors throughout the arranging process. He is always open to ideas, and writes to the band's strengths each year. I look forward to many years of working together with one of the best composers/arrangers around.
Tom Reifenberg
Director of Bands, Greendale High School
Greendale, WI
Our band staff and band parent's organization were privileged to work with Craig Fitzpatrick on a commissioned work to honor our departing fifth grade band director. This was our first experience with this process, and we have found it very rewarding and well worthwhile. Needless to say, I was very impressed with the result. Perhaps what impressed me the most about Craig's writing was his ability to be so expressive while maintaining the limited technical demands of a grade 1.5 piece. I was especially pleased with the fresh harmonic and rhythmic structure that Craig lended to our piece. Most importantly, Craig was able to avoid all of the standard cliches that infuse so much of the music that is available at this grade level. In addition to sustaining the interest of young players, Craig's music has the depth to be a source of musical satisfaction for the conductor as well. Every time I experience Craig's music, I hear something fresh, invigorating, and inspiring.
Jessica Heidbreder
Band Director, Johnston High School
Johnston, IA